Our clients come to us with unique, challenging problems to solve. Here are a few examples of diverse solutions we've designed.
NTP-to-485 Converter
The Problem
The Maricopa Association of Governors and the Phoenix Police Department required a simple method to synchronize their 911 logging recorders with a precise and accurate time source. Previously, the clock on each 911 call logger had to be updated using an expensive dedicated GPS clock with a serial output. The 911 call loggers had various inputs including serial communication (RS-485) allowing their real time clocks to be synchronized to the correct time.
In order to save money and reduce complexity, the Phoenix Police Department decided to use a single GPS clock and Network Time Protocol to synchronize the time stamps on every 911 call logger over their network. USDD was asked to design an interface between the RS-485 input of the 911 recorders and the NTP protocol used by the central GPS clock.
Our Solution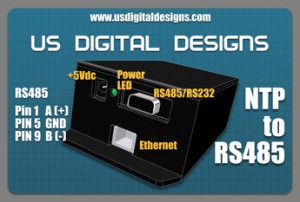 US Digital Designs analyzed the protocols used by both the 911 recorder and the network connection used by the Phoenix Police Department. USDD then developed the 911/NTP controller.
The 911/NTP interfaces with the Phoenix Police Department's Intranet and obtains the correct time using NTP. It then compensates for delays due to network lag, serial communication timing and other factors as it delivers time stamps to the 911 call loggers. The time stamps are correct to within ten milliseconds.
The various operating parameters of the device are configured using an RS-232 interface and a terminal emulator.
The NTP/911 is housed in a durable plastic enclosure and includes a wall mounted power supply. Several of these units were supplied to Phoenix and have operated without incident since they were installed.
Diesel Engine Data Logger
DNA Amplifier
APU Speed Sensor
Load Bank Controller
Gas Cabinet Controllers
Let US Digital Designs solve your engineering challenges.